KES System
The KES system is the first metal joinery hardware construction method for wood-built structures developed and standardized in Japan. Since the completion of the prototype in 1974, repeated improvements have been made and patents have been acquired in various countries around the world. Developed with the mission to "protect the lives of families and properties," the KES system has been applied to a wide-range of wood-built structures from homes to large-scale and mid-to-high-rise public structures.
Metal joints with astounding strength and freedom of application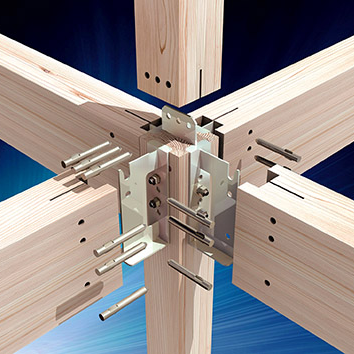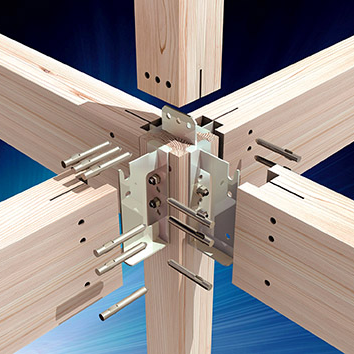 Joint areas have been considered to be the major weakness of wood-built structures. The conventional timber framework method required processing of joints such as a "mortise" and "tenon," and commonly involved cutting into structurally important materials such as columns and beams. This resulted in weakening the original strength of the timber.
The KES system has thoroughly enhanced this major weakness through use of original metal joints and has achieved astounding strength. This has enabled freedom in design such as for large spaces and large spans which was difficult to realize with the conventional timber framework method. The KES system's original metal joints have their own "hook" and "torsel" that are not found on other metal joints. These parts serve to increase resilience and workability.
Superior force bearing and durability performance as an absolute future measure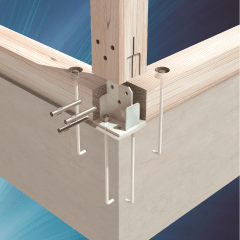 With conventional construction methods, columns are placed on top of the groundsill with the potential for compressive strain and cracking to occur to the groundsill if a large load is applied. Similar to columns in Japan's ancient shrines and temples, the KES system involves fastening columns directly to the foundation which disperses the force of an earthquake to the foundation.
This protects the building against disasters and deterioration over the long-term.
KES-System Safety
The innovative technology used in the KES System protects clients' lives and assets in natural disasters
It is almost impossible to know when natural disasters such as earthquakes and typhoons will occur. The KES System uses the latest technology to protect clients' lives and assets in such events. When the Great Hanshin-Awaji Earthquake hit Kobe City in 1995, all houses built there with the KES system survived entirely: this was dramatic proof of the effectiveness of our technology.
Patented metal joints recognized worldwide. The KES System gives buildings strength and flexibility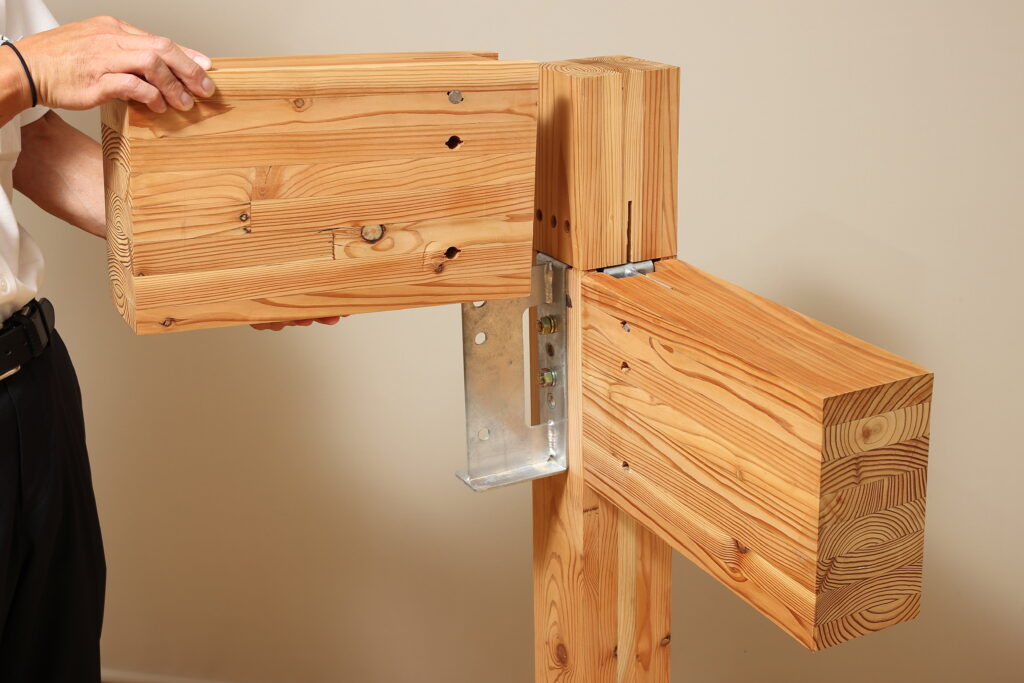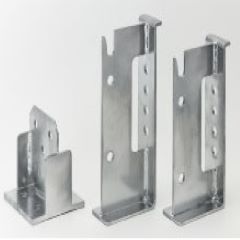 Traditional Japanese wood jointing techniques are legendary for their beauty and ingenuity, but the joints do have some structural disadvantages. The KES System uses a unique design of metal plates to reinforce timber joints, achieving both beauty and great strength. The system has been patented not only in Japan, but also in the United States of America and in Canada, and is recognized worldwide.
The metal plates of the KES System are designed to easily receive and locate timber beams, making secure joints, and simplifying the buildability of projects.
KES-System Quality
The KES System's high-quality hot-dip galvanizing of its metal joint-plates significantly increases durability and resistance against rust
The steel jointing-plates of the KES System are all galvanized, giving significant resistance to rust. The galvanizing coat has a thickness of more than 500 g/m2, which is a higher specification than the highest grade of the JIS (Japan Industrial Standards), and higher than the galvanized coating of infrastructural electric wiring, which has a thickness of 350 g/m2. In buildings in coastal environments, steel with conventional cathodic coating will begin to rust after 50 years, while steel with a galvanizing coat of 500 g/m2 of electrodeposited zinc is estimated to last for more than 173 years.
Characteristic of hot-dip galvanizing
The Galvanizing coat consists of electrophoretic layers that are tightly bonded together, forming a cohesive coating that protects the core steel without exfoliation or cracking in all normal conditions.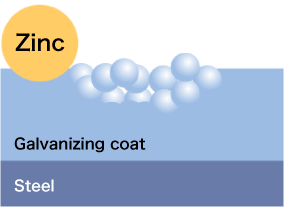 The top surface of the zinc coating binds with oxygen electrochemically, becoming zinc carbonate. This process, which protects the core steel, is called sacrificial corrosion.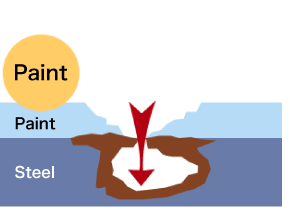 Conventional paint only shields the steel from oxygen and water. When the coat of paint is scratched or broken, the steel begins to corrode.
As the pioneer of metal joint systems for timber structures,
Shelter has obtained a wealth of accumulated knowledge
The Shelter Company is the originator of advanced timber frame jointing systems in Japan. Since our prototype structure was developed in 1974, the system has been patented across the world, and we have accumulated a wealth of experience and expertise.

S Mark granted; another assurance of quality
After the Great Hanshin-Awaji Earthquake of 1995, it was recognized that the improvement of timber frame structures was an urgent issue for the Japanese building regulations. It is now required that the strength of every structural element be documented.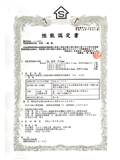 In one of the first determinations of this new compulsory certification, the Japanese Government granted the KES jointing-system an 'S-Mark' (Safe mark). In addition, all houses in Japan built using the KES System are covered by a building indemnity insurance, which gives additional peace of mind to our clients.
In ensuring safety, Shelter is particular about even a single nail or drift-pin
To achieve high performance, the nails connecting walls and floors, and the drift-pins connecting fittings, beams, and columns are important elements. With the KES system, strict quality control is performed to ensure highly reliable construction.

KES-System Future
The KES System has created a new era of timber structures, enabling the construction of large-scale timber buildings that respond to today's increasing focus on environmental issues.
The KES System gives flexibility of planning through its variety of metal joints
The wide variety of metal joints in the KES System gives designers great flexibility, enabling the making of interior spaces of very different sizes. These joints are designed for use in buildings from the scale of a residence with a carport to large-scale public buildings.
The KES System used for large-scale timber buildings
The KES System has been used for many large-scale public buildings. The public clients have selected the system not only because of its excellent structural stability, but also because timber buildings are environmentally-friendly, and give their users a sense of well-being.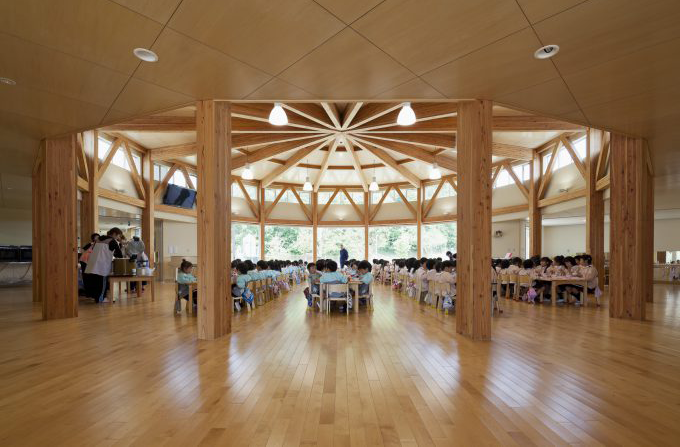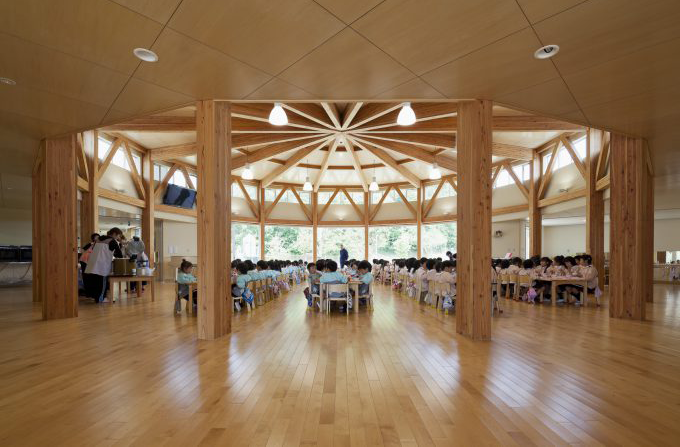 Shimanaminomori Center for Early Childhood Education and Care
Architect: Yu Architect Office+Mate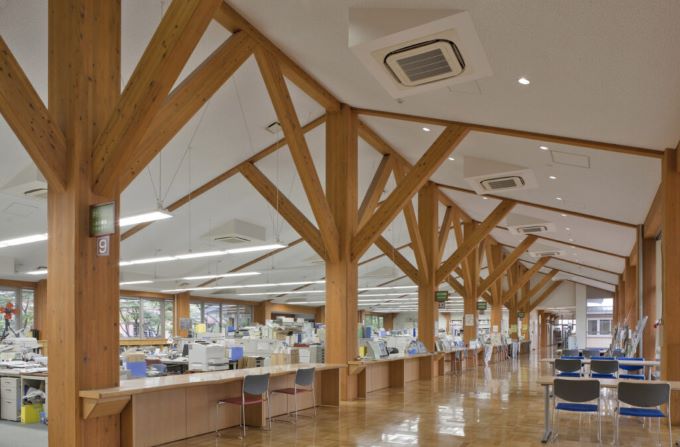 Miyashiro Government Office
Architect: Miyashiro Sekkei Rengo (Architects Union)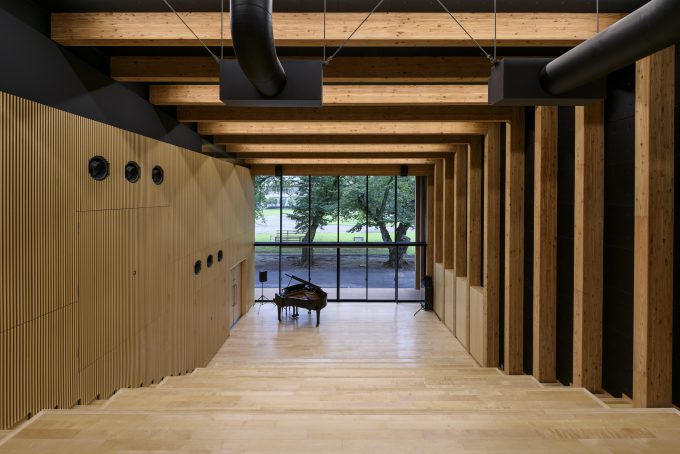 Sagami Women's University Elementary School SAKURAKAN
Architect: Ishimoto Architecture office
KES construction method that proved its strength against earthquakes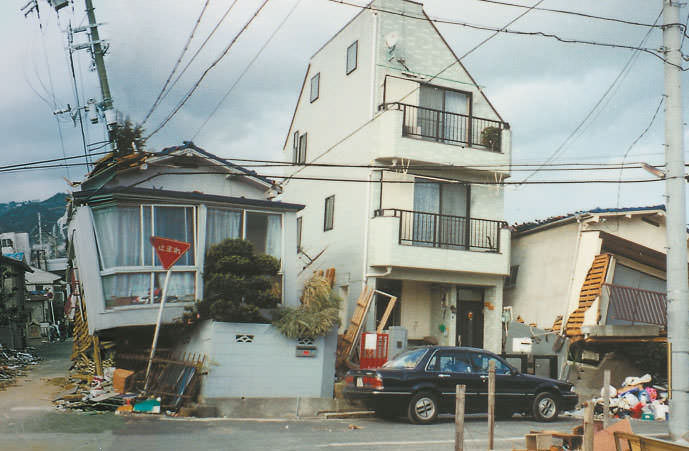 N residence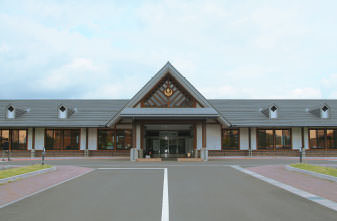 Kurikoma General Branch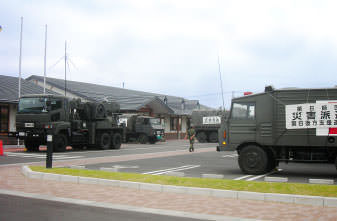 Kurikoma General Branch after the Great East Japan Earthquake
The N residence in Nada Ward, Kobe City, which was particularly damaged during the Great Hanshin-Awaji Earthquake, is a three-story house with a KES construction method. Even the surrounding reinforced concrete three-story condominium protected precious life and property in this collapsed area.
The Kurikoma General Branch in Kurihara City, Miyagi Prefecture, built by the KES construction method, was completely unharmed by the 2008 Iwate-Miyagi Nairiku Earthquake with a seismic intensity of 6 or higher. It withstood the 2011 Great East Japan Earthquake, which recorded a seismic intensity of 7, and functioned as a local disaster response headquarters.